The right sports bra – or the wrong one – can make or break your gym session. Every woman wants to look their best in the gym, and wearing the right gear can give you an instant confidence boost.
Whatever workout you plan to do, you need to know that you will be comfortable and look great. And you can tick both of these boxes by investing in the right sports bra. When it comes to choosing the perfect sports bra, 'functional' just doesn't cut it. Your sports bra is so much more than that.
WHAT KIND OF BRA DO I NEED?
The answer to this question depends on your cup size and the kind of activity you're doing. There are three different kinds of activity – Low Impact (e.g. Yoga or Pilates), Medium Impact (e.g. Spinning, Dancing or Kickboxing) and High Impact (e.g. Running. Tennis or Basketball).  The right bra to perform each activity in depends on your cup size. Check out this handy chart to see what sports bra you need based on the kind of activity and your cup size.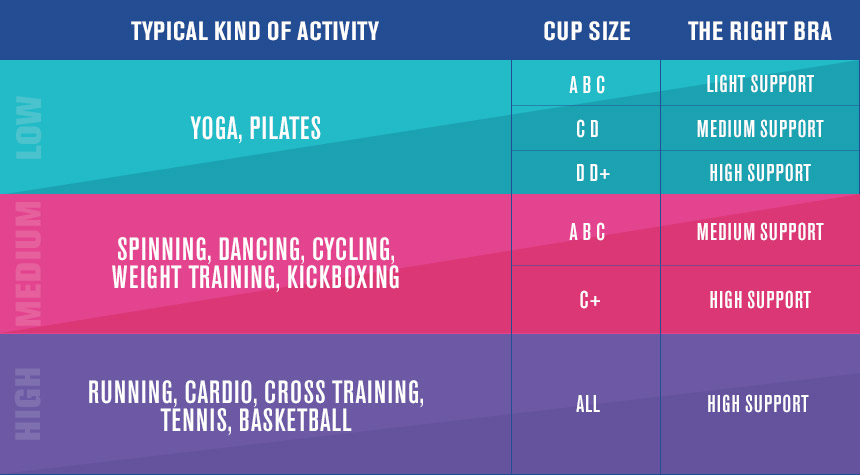 As you can see, there are three different types of support available: Light Support, Medium Support and High Support.
Light Support sports bras are perfect for the smaller busted woman who is focusing on low intensity exercise.
Medium Support sports bras are best suited for women with a small or medium bust size and low to medium intensity workouts.
High Support sports bras are designed for women with a medium or large bust size, or for any woman performing a super intense workout like running.
Choose the right Sports Bra by simply matching your cup size to the kind of activity you will be doing.
THE RIGHT BRA FOR LOW INTENSITY WORKOUTS
Your yoga session is definitely going to be hard work, but the intensity of your movement will be limited. If your cup size is a DD+, then you will need a high support sports bra, otherwise you can use a medium support or light support sports bra.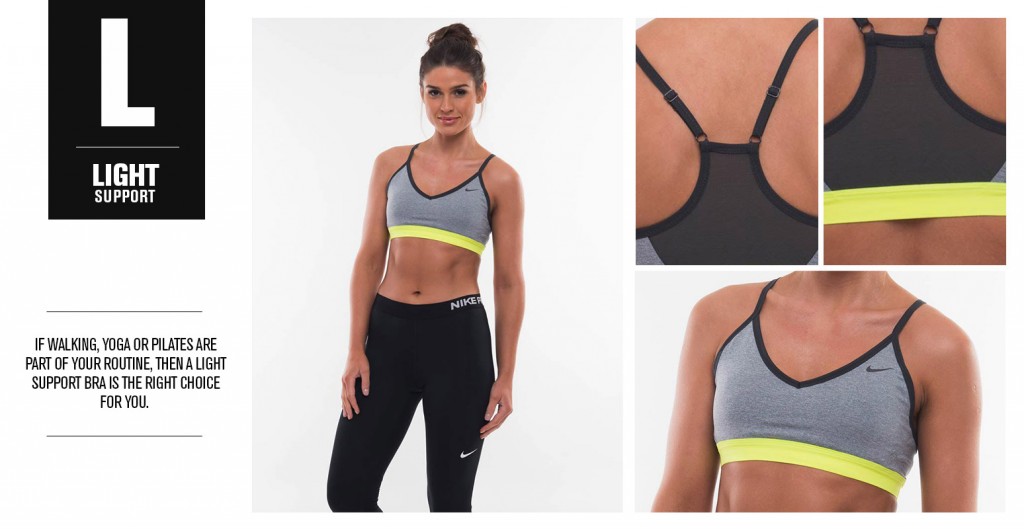 THE RIGHT BRA FOR MEDIUM INTENSITY WORKOUTS
Whether you're hitting the beat in a dance class, pumping iron in the gym, or racing up the road on your bicycle, you need the right support. For this kind of medium intensity workout, if you're below a C cup, then you will need a medium support sports bra. Every woman with a cup size of above a D or more will need a high support sports bra.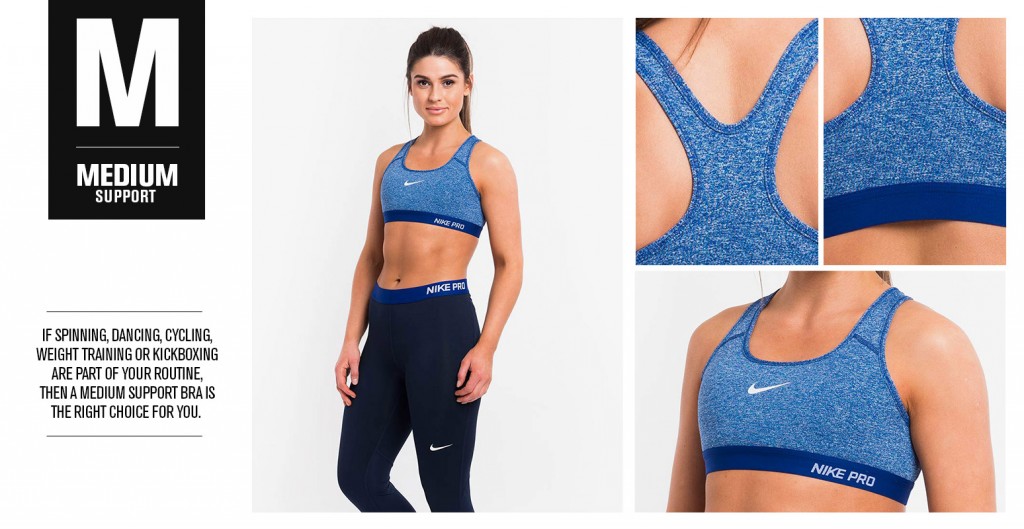 THE RIGHT BRA FOR HIGH INTENSITY WORKOUTS
When you're reaching for that volley at the net or you're screaming for oxygen on that last kilometre of your run, the last thing you need to be thinking about is bouncing, back pain, or neck pain. When it comes to high intensity activities, regardless of your cup size, you need a high support sports bra.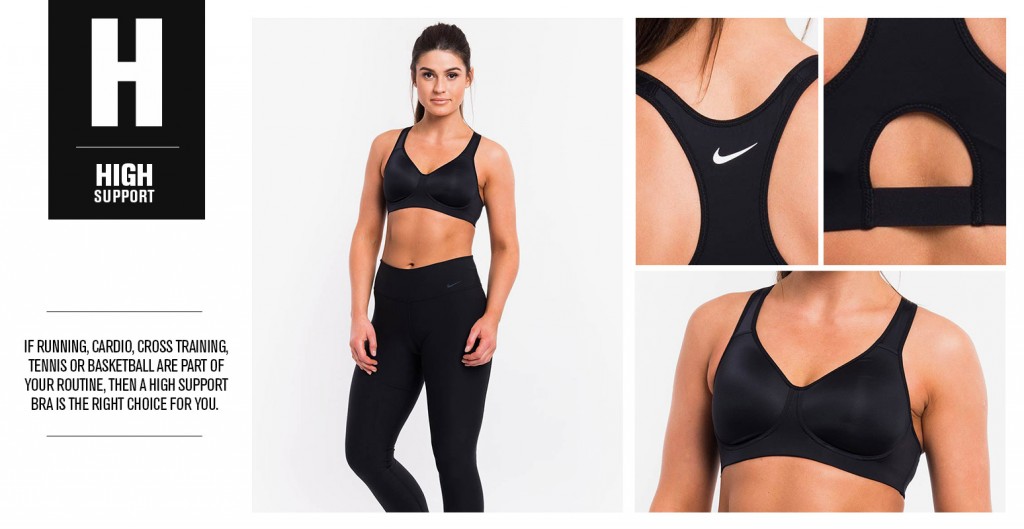 HOW WILL I KNOW IF MY SPORTS BRA FITS?
Just like with regular bras, it can be extremely difficult to know if you have the right fit for your sports bra. So what should you look out for?
Comfort: If your bra isn't as comfortable as your regular, everyday bra, then you're in trouble straight away. Remember, a good fit is even more important in a sports bra than it is in your regular one. Keep an eye out for bulges and overspill.
The band rides up in the back: If the band across the back is creeping up on you, it's a clear sign that the bra is either (a) too big or (b) stretched out. Either way, it won't provide the right support for you because the band actually does most of the work – not the straps. The band should fit nice and snug, but not 'bite'.
The straps dig In: You might have a preferred style of strap (i.e. racerback, wide-set) but they should never be digging into your shoulders or back. If they are, it's because you have a problem with the band of your bra.
Monoboob: You know what we're talking about with this one. Your sports bra shouldn't turn your bust into one large concrete block, which is why our sports bras have divided cups that separate your breasts. It isn't just an aesthetic thing either; this style allows air to circulate which cools you down and it allows each breast to have separate support.
Spillage: If you can't tell whether it's a WonderBra or a sports bra – it's not big enough.

WHAT SIZE AM I?
There are two key factors in determining your bra size: band size and cup size. You can measure these at home by following the steps below.
Stand as straight as you can and try to keep relaxed. Measuring in inches and using a soft tape measure, place the tape measure right beneath your breasts, and measure all the way around your body. If the measurement is an even number, add four to that number. And if you're an odd number, add five to get an even number. This is your band size.
Now you need to calculate your cup size. While wearing a bra, use the same soft tape measure around the fullest part of your bust (usually across the nipple) and try not to pull it too tight. Sometimes it helps to do this in front of a mirror, so that you can make sure the measuring tape is level at the back. This will give you a new measurement, and there's no need to add anything to this number, or to make it even if it is an odd number.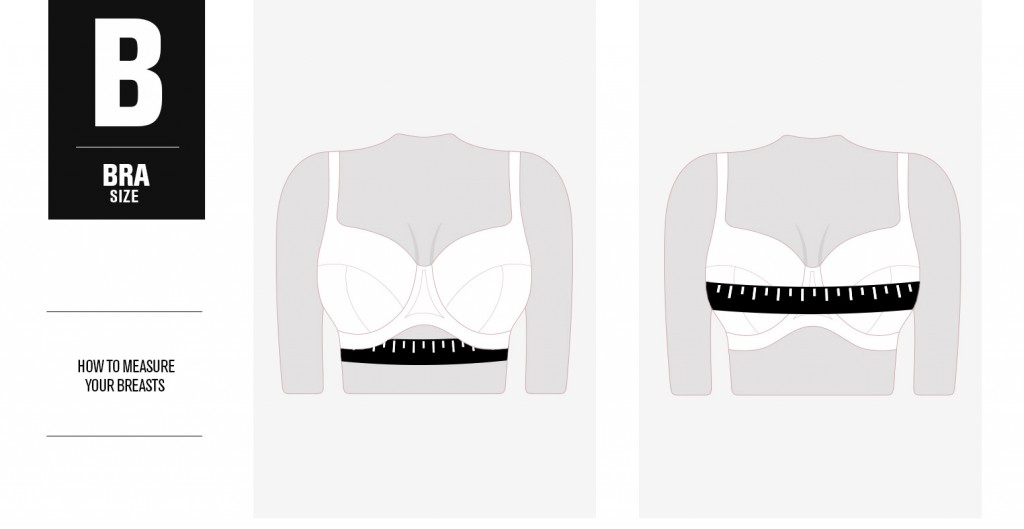 Take your measurement from Step 3, and subtract the band size that you calculated in Step 2 from this number. For example, if the number you measured in Step 3 was 38, and the band size you calculated in Step 2 is 36, then subtract 36 from 38 to get the number 2 (38 – 36 = 2). This final number is your cup size, and can be converted using the following guide:
0 = AA
1 = A
2 = B
3 = C
4 = D
5 = DD
6 = DDD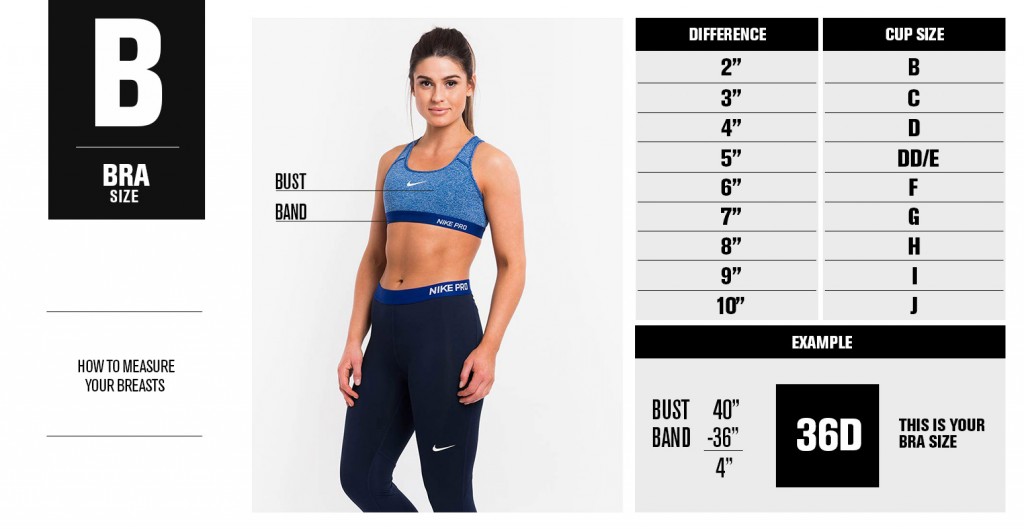 A lot of sports bras can be sold in "small", "medium" or "large" sizes, rather than different cup sizes. To convert your cup size to a bra size, you can use the below conversion table.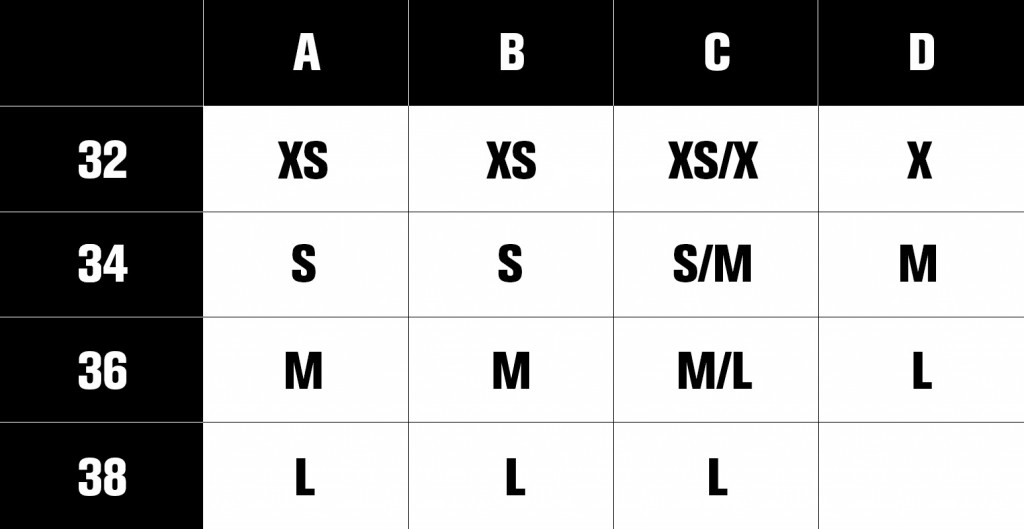 WHAT IF I DON'T NEED A SPORTS BRA?
Many women with smaller bust sizes seem to think that they don't need a sports bra, because they don't suffer from the same kind of 'movement' issues as larger busted women. But the truth is that all women need the support of a sports bra when it comes to any kind of exercise.
In fact, according to many studies, having inadequate breast support while working out can cause long-term injuries to the breasts themselves.
Having a supportive sports bra becomes even more important as your workout increases in intensity; the more high energy and high impact your activity, the more movement there is – especially for women with bigger bust sizes.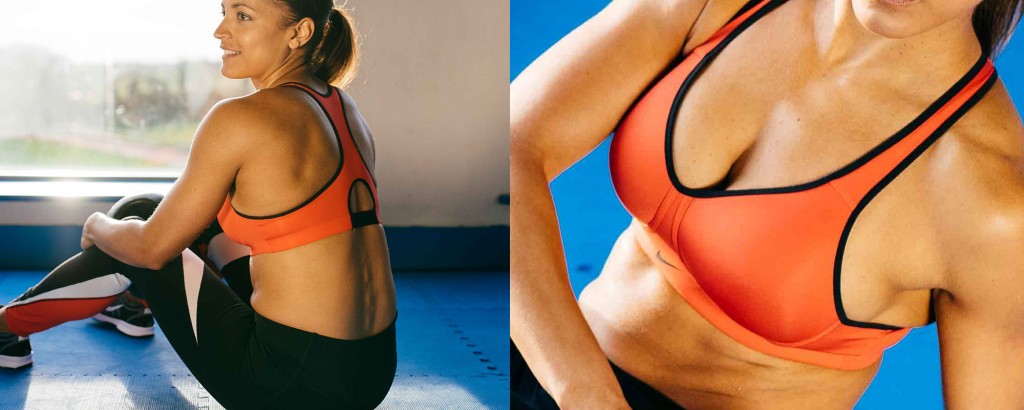 YOU DESERVE THE BEST
You deserve to be comfortable, supported, and feel amazing, both inside and outside of the gym. When you are determined to improve yourself and to stay fit, we can help you Achieve Your Awesome. Browse our full collection of sports bras and find your perfect fit.